Message from the Principal
Baduriya central college is one of the leading schools in the Mawanella Education zone in the Sabaragamuwa Province, which consist of 3064 students and 140 teachers. There are classes from grade one to thirteen including bilingual classes.
This college has been graded up to 1 AB standard school, meantime there are Arts, Commerce, Bio science, Physical science and Technology streams for GCE advanced level.
We are planning to feed and update the data and activities of our school on the website. Our school has won the Bronze medal at provincial level in the assessment program held among the schools under the title "fruitful school".
At the same time according to 2018 G.C.E A/L results 27 students have been selected for various fields in the Universities and University colleges. Furthermore our school has won many awards in co-curricular activities not only at provincial level but also at National level.
it is noteworthy to mention that our school student Master HumaidRiswan had participated in the under twelve Milo football team to play in Barcelona,Brazil representing Srilanka team in 2019.Further I am very proud to mention that two of our school students,MastersM.N.M.Amree and M.M.Aashik have been selected to take part in the 2019 International ICSQC Quality circle international conference and competitions.
We intend to transform our school and classrooms as a smart school and smart classrooms in the near future.
Our school OBA,OGA and SDC along with the school administration are undertaking a great effort to uplift the school as a National school.
Finally I pray almighty Allah for all development and success of the school.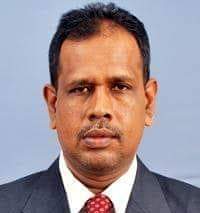 M.A.M. Nisthar (MED,BA,PGDE)

Principal
Baduriya Central College
Mawanella.